Bookkeeping Solutions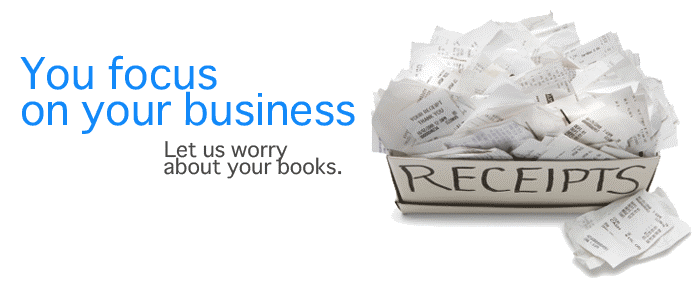 Bookkeeping Solutions start at just $169.95 a month.
Our Bookkeeping includes:
Entering transactions for and reconcilation of all your accounts
Production of Financials
Phone and Email Support
Anytime Anywhere (ATAW) Report Access, Accounts Payable and Receivable Services are also available for additional fees. Just ask and we will include them in your quote.
HOW TO GET AN ESTIMATE:
Our flat rate pricing is based on volume. We will calcuate the total number of transactions you need each month and give you an estimate.
We will need the statements for all of the accounts you wish us to reconcile in order to provide you with a price estimate:

Bank Account(s)
Credit Card Account(s)
Lines of Credit, Mortgage or Other Loans, Investment Accounts, etc.
PROJECT BOOKKEEPING PRICING:
Need help getting caught up? We can help! We offer Project Bookkeeping to get you caught up, balanced, and reconciled, so you can get back to growing your business.
Use this service once a year to prepare for income tax season or use it only one time to get a solid foundation for your books.
Project Bookkeeping is also billed at a flat rate that is specific to your situation based on volume of transactions. Bring all your stuff to us and we'll give you a quote.